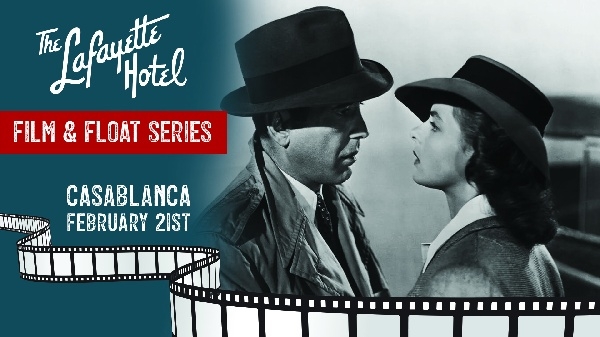 Date:
February 21, 2020 to February 21, 2020
Where:
Lafayette Hotel, 2223 El Cajon Boulevard, San Diego, California, United States, 92104
FILM & FLOAT: Lover's Addition
"Of all the gin joints, in all the towns, in all the world, she walks into mine…"
We'll always have…The Lafayette for monthly FILM & FLOAT movie nights, celebrating the month of love with one of the most classic romances of all time: CASABLANCA. Relive Humphrey Bogart & Ingrid Bergman's onscreen love story as we cozy up in the Conservatory for a special presentation, underneath the parasols, on Friday, February 21st at 6pm. Enjoy movie-inspired bites and cocktail specials from Hope 46's version of Rick's Café.
RSVP Today