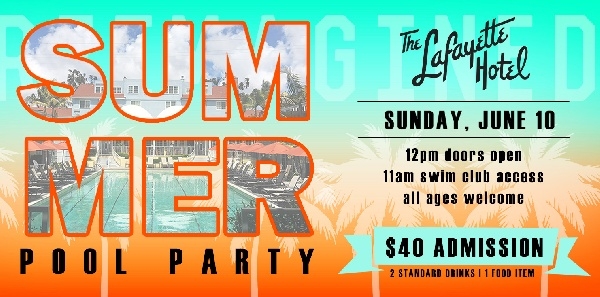 Date:
June 10, 2018 to June 10, 2018
Where:
Lafayette Hotel, 2223 El Cajon Boulevard, San Diego, California, United States, 92104
Event Type:
Family, Other
This summer we invite you to witness the refresh of your city's urban oasis.

The Lafayette Hotel's famous pool parties are back with a new sound, look, and vibe for a fresh start in 2018.
Enjoy the summer poolside where we will have entertainment, artists and pool games. Our hotel's unique personality continues to charm every day, where you can enjoy a classy time in your best suit, or splash around with friends and festive floaties. Whatever your style is, we are ready to stimulate your senses and celebrate the late summer afternoons that you deserve.
Time: 12pm-5pm - General admission
11am - Swim Club Members early access
Cost: $40/per person and includes the following:
Entry to the event
2 standard drinks
1 food item
All Ages Welcome!
Experience The Lafayette Hotel, reimagined.