The Historic Lafayette Hotel in North Park, San Diego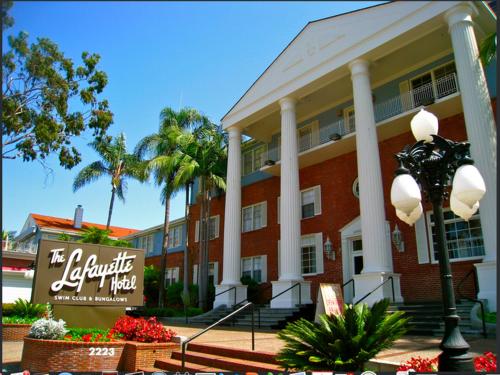 Stylish where it matters and affordable where it counts, The Lafayette Hotel, Swim Club & Bungalows in North Park, San Diego, is more than just a place to stay and see Southern California attractions. It's a wingman you can count on, an adaptation of an earlier era, and an experience you look forward to.
The world has no shortage of traditional hotels. Sure, we've been around since 1946, but our idea of what a hotel should be hasn't. We believe modern travel should be about flexibility, simplicity and exploration. If we were formal enough to write a mission statement, it would read like this: A centrally located San Diego hotel with a great atmosphere, great food, great people and great beds.
This approach influences everything we do. And most things we don't. We want the Lafayette Hotel to be a place where you can be yourself, or reinvent yourself. That's why it comes as no surprise when the Lafayette attracts thousands of travelers to San Diego and North Park every year. Free spirits, the suits, global nomads, couples, families, and parties of one, they stay because we share common ground. The huge pool probably doesn't hurt either.
We also know San Diego culture. Imbedded within the vibrant North Park San Diego community renowned known for its exciting nightlife, shopping, dining, and exploding arts and music scene, The Lafayette Hotel & Swim Club redefines what it means to be a community minded hotel.
Location
Central San Diego - North Park, Balboa Park, Hillcrest & University Heights
Rooms
131 rooms in 4 categories
Meeting & Event Space
15,000+ sq. ft. of flexible interior and exterior meeting space
Restaurants
HOPE 46 Classic American Cuisine, The Red Fox Steakhouse
Parking
Secured underground garage with 100 spaces & three additional property owned lots. $12 per night.
Pets
The hotel does not allow non-service pets but Fido is welcome to stay right next door at Bark Boulevard Pet Hotel and Activity Center. Don't forget to mention that you're a Lafayette guest for a preferred rate.
Smoking
The Lafayette is a 100% smoke free hotel
Hotel Map
Please see the hotel map in down PDF download below.

DOWNLOAD PDF
The Lafayette App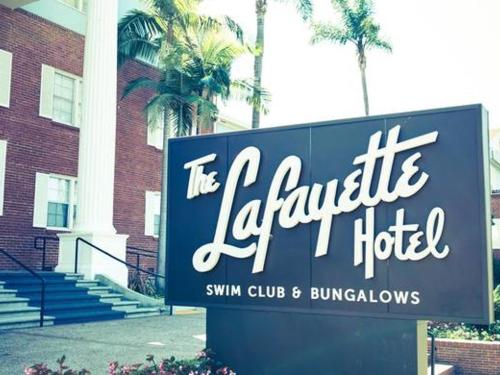 We're excited to present our app which is now available in the Apple's iTunes! In this app you will find all the information all about our historic landmark hotel.
You can click this
download link