...and there's more!
The West Courtyard
Dreamy and imaginative, the West Courtyard is a refreshing alternative to your standard, boring meeting space. Complete with lifesize chess and checkerboard floors, unique succulent arrangements, and overhead drapes reminiscent of clouds, this is the area you want to be in to escape reality or to mold it to your liking.
The Baton Rouge Room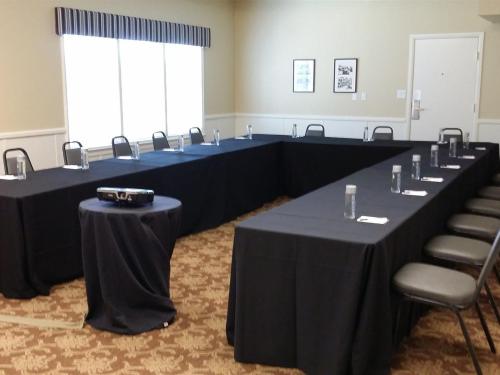 We usually utilize this area as the green room when we're hosting bands and entertainers. You too can feel like a rockstar by holding your meeting or event here where your guests will be welcomed with natural light coming from two large, South-facing windows and recently renovated carpets. Don't take our word for it - come by and take a look!
The Burgundy Room
Soon to be furnished with a massive 72" flat screen TV, this room can handle anything from a important board presentation to an intense gaming session and everything in between. We've had churches, comedy classes, and community organizations all find utility in this straightforward space perfect for small to medium sized groups.
The Bourbon Room
The Burgundy Room's little brother, The Bourbon room is just slightly smaller than its sibling but equally as effective. Modestly adorned with classic Hollywood photographs, this quaint room will help you focus on achieving maximum productivity on that presentation or your fantasy football draft.
The Bayou Room
Simple yet effective, the boardroom means business. However, it doesn't always have to be. Equipped with a large conference table and seating for 6 this San Diego meeting venue is perfect for brainstorming sessions, corporate meetings, or can serve as the perfect base to build one amazing house of cards.
Capacities
Contact
For all your meetings and events needs, please contact Lisa or Ashley at:
(619) 780-0360 / lisa@lafayettehotelsd.com
(619) 780-0361 / ashley@lafayettehotelsd.com